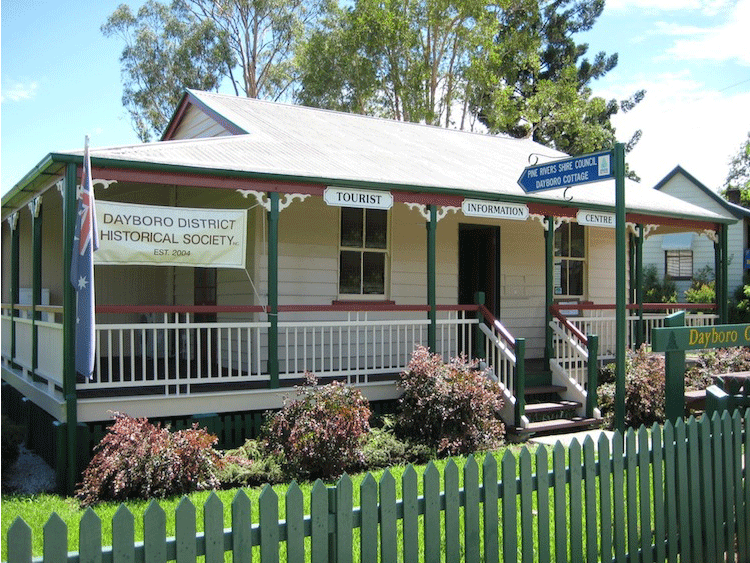 DAYBORO DISTRICT HISTORICAL SOCIETY INC.
Est. 2004
"Dayboro Cottage"
27 Williams Street,
DAYBORO. 4521
Our aims are to collect, collate and preserve articles, photographs and information relating to the Dayboro district.
Our town has had 3 official names and a number of unofficial names. Originally the region was referred as Upper North Pine, North Pine later becoming known as Petrie. In 1875, the first mail service came to the district and Mr. Hugh Hamilton, a local farmer, was appointed receiving officer. In 1878 Hamilton's mail service was elevated to Unofficial Post Office status and Mrs. Catherine Hamilton, widow of Hugh Hamilton, was appointed first Post Mistress. She married William Brundrit, the local schoolteacher in 1879, and in 1880 the Post Office became known as Hamilton. The name was changed to Terrors Creek in 1892 after the creek which bordered the town. In 1917 the name was again changed as the Postmaster-General maintained there was confusion between Terrors Creek and Torrens Creek. The name chosen was Dayboro in honour of William Henry Day, Clerk of Petty Sessions and later Police Magistrate in Brisbane, who, in 1867, had leased Portion 1 Parish of Samsonvale on which the majority of the town now stands, and established a sugar plantation and later a sugar mill.
Present localities near Dayboro are Mt. Pleasant, Laceys Creek, King Scrub, Ocean View, Rush Creek, Armstrong Creek, Kobble Creek and Samsonvale.
If you have any Dayboro connections, we would love to hear from you.
"Dayboro Cottage" is open from 10.00am to 3.00pm 7 days a week and is the Visitor Information Centre for the Dayboro District

Click here for things to see, things to do, where to eat and where to stay in the Dayboro area.